Oppose the Hospital Closure Clause
The following is a letter sent by Stroud Against the Cuts member Caroline Molloy, published in the Stroud News and Journal, February 2014. For the latest on the campaign see: "Don't close our hospitals on the quiet, protesters tell Health Secretary". Why not write to Neil Carmichael MP about this?
Despite fierce opposition from doctors, 38 Degrees, the British Medical Association and charities, the Government is trying to rush through changes that will make it far easier to close hospitals without public consultation.
If one hospital, even outside Gloucestershire, gets into trouble, other popular and well-run hospitals in our area could be downgraded or shut down to balance the books under the proposed new rules.
Recently, a court ruling stopped Health Secretary Jeremy Hunt from closing accident and emergency and maternity services at popular Lewisham Hospital. Now the Government wants to remove the law that protected Lewisham.
If Clause 118 of the Care Bill, dubbed the 'hospital closure clause', becomes law in February, the fate of hospitals, including Stroud Hospital, could be taken out of our hands.
We already know that the Government is quietly reviewing the future of half the hospitals in the country.
If our hospital was threatened, this new law would give local people, doctors, and councillors little or no say in what happened to it.
That's an awful prospect.
The Royal College of Physicians has said that "handing powers to special administrators to make decisions about neighbouring trusts is cause for concern".
The UK already has fewer hospital beds than most developed countries.
The British Medical Association opposes the hospital closure clause, saying it would allow the Health Secretary to "force changes through the back door". Writing in the British Medical Journal, Professor Allyson Pollock says that the clause will "undermine equal access to care in England" and removes "checks and balances designed to ensure that changes are in the interests of the communities affected", with centrally-appointed decision-makers only having to think about money.

Public outcry now could force the Government to change the worst aspects of the Bill — including the hospital closure clause — in its final stages early next year.
Will Neil Carmichael MP press to get the Bill amended and the hospital closure clause dropped — or will he put the future of Stroud's Hospital services in jeopardy?
Since 2012 the Health Secretary no longer has a duty to secure a comprehensive health service, but he wants more power to impose fast-track hospital closures with no reference to the views of local people.
What happened to "no decision about me without me"?
Caroline Molloy
Last Updated ( Sunday, 23 February 2014 18:01 )
Bedroom Tax update

In September 2013, the Stroud News and Journal reported that "Out of the 347 council tenants in the Five Valleys affected by the controversial changes to housing benefit, a total of 120 have fallen behind with their rent payments" (More recently, The Citizen reported that 238 families in Gloucester are spiralling into debt as rent arrears total £25,000 since April 2013).

Stroud Against the Cuts worked with Unite Community to collect 1200 signatures calling for, amongst other things, a policy of no evictions (as has been adopted by other councils) and the cancellation of rent arrears resulting from the bedroom tax. This was enough signatures to trigger a debate at a Stroud District Council meeting, which you can watch here (the Bedroom Tax petition debate begins at 33:45).

Following the council meeting, on the 6th December 2013, Stroud Against the Cuts sent the following letter to the local press. Below the letter is the latest information from the Anti Bedroom Tax and Benefit Justice Federation.

Over the last few months Stroud Against the Cuts and Unite Community collected 1200 signatures on a petition for Stroud District Council to adopt a policy of 'no evictions' and 'cancellation of rent arrears' due to the Bedroom Tax. Such a policy could have helped alleviate some of the stress and misery the bedroom tax is causing to the most vulnerable. Cuts in housing benefit due to the bedroom tax mean many are unable to afford their rent, building up debts through no fault of their own. People are worrying about future eviction or being forced to move away from their networks of friends and support.

We met many people who were prepared to downsize, but were stuck because of the lack of smaller social properties. The council has admitted it does not have enough suitable homes. Why should people be financially penalised for this?

We met a couple who didn't want to move from Dursley, where they had family and friends, to Brockworth, where they are isolated.

Two thirds of those affected are disabled. At the meeting we gave an example of a disabled woman living on her own, who has been forced to postpone critical surgery because of the uncertainty surrounding where she will be living, due to the Bedroom Tax. The operation has a two year recovery period, during which moving house would be impossible. She can't face the thought of moving, losing her possessions and pets. It is this human misery that gets forgotten when some of those opposed to the petition resort to petty political name calling. To people like her refusing help on the basis that it 'treats the symptoms not the cause' and that the only solution is to 'vote Labour in two years time' sounds like hollow electioneering.

At the council meeting Labour councillors claimed they had an 'unwritten' no evictions policy, but this won't alleviate the stress of the vulnerable people affected. The tax only came into force in April, as arrears build an 'unwritten' policy can easily be changed. They weren't even prepared to simply send a letter of condemnation about the tax to Parliament.

Instead, Labour councillors voted with the Tories and against the Green motion to publically state no evictions would be made and to write to the Secretary of State calling for the bedroom tax to be scrapped.

They were dismissive and insulting about the 1200 strong petition co-presented by Unite the Union. Unite is the biggest public sector trade union and supports a policy of 'no evictions'. Labour's argument that those affected by the tax could not be given special treatment because it would be unfair to others in rent arrears for other reasons is simply an argument for inaction, while claiming to oppose a brutally unfair tax. Would it mean that those opposing privatisation could not be supported if another privatisation could not be halted elsewhere? It's a ludicrous argument.

In the end SDC have refused to help some of the most disadvantaged people in the Stroud area. Stroud Against the Cuts is not aligned to any political party, and welcome any of those affected by the bedroom tax, or concerned about the impact of cuts and privatisation generally to get involved in campaigning with us: This e-mail address is being protected from spambots. You need JavaScript enabled to view it / 07583 497887.
Yours sincerely,

Chris Moore, James Beecher, Caroline Molloy, Hannah Basson, Steve Hunter, Christine Stockwell (members of the Stroud Against the Cuts co-ordination group)
Latest from anti Bedroom Tax and Benefit Justice Federation:

"Pressure is punching holes in the Bedroom Tax. The Bedroom Tax is dead in Scotland - see story here and tenants are winning legal challenges.

* Every tenant can claim, appeal, protest - get the word out. The latest legal rulings say separated parents are each entitled to a bedroom for their children- separated parents see here; a bedroom is defined by how you use it - Bolton decision here and use see here; small rooms do not count - size see here; the Pre-1996 rule means long term tenants on Housing Benefit can reclaim any amount lost due to the bedroom tax- see here

* Demand Council informs tenants of Discretionary Housing Payments and of exemptions and appeal grounds. And instruct landlords to do same before threatening eviction - see http://nobedroomtax.co.uk/

* Organise for the Day of Protest 5 April - one year too long for Bedroom Tax - End it Now! Marches and protests happening in Leeds, Manchester, Bristol, Ashfield, Harlow, Milton Keynes, Birmingham, Southend, across London etc."

---
Please get in touch: This e-mail address is being protected from spambots. You need JavaScript enabled to view it or 07583 497887 if you are affected by the bedroom tax or know someone who is and need advice on if and how you can challenge it.
Last Updated ( Sunday, 23 February 2014 21:45 )
SATC supporter attends austerity seminar for young greens
From 6th to the 9th of February Sahaya James, a supporter of Stroud Against the Cuts, participated in the Federation of Young European Greens (FYEG) London Seminar focused on austerity.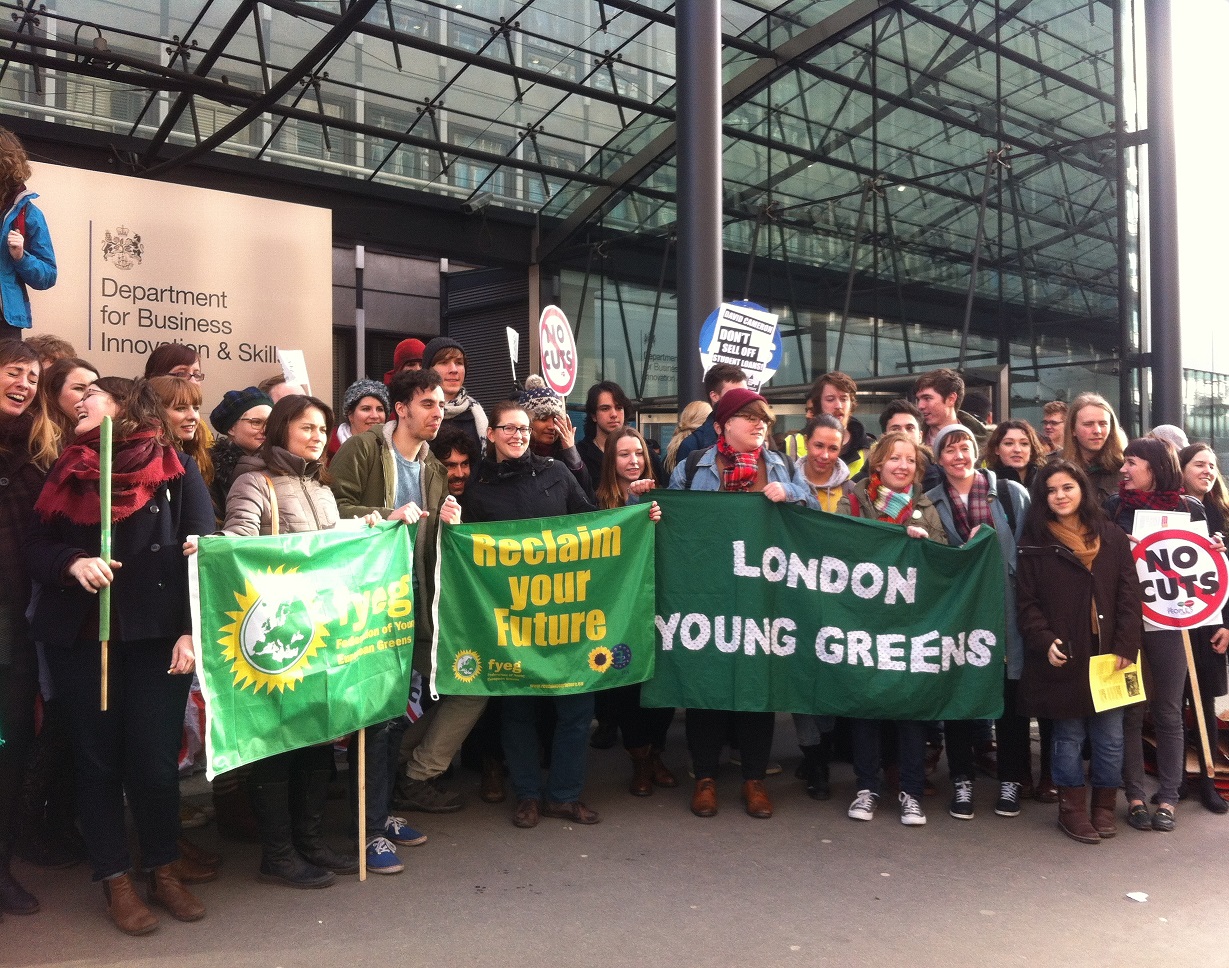 Sahaya writes:
"The intensive four days were filled with a fantastic variety of workshops, talks and panel discussions on an array of current concerns, especially austerity, the many ways in which it is affecting youth in Europe, immigration, Roma-phobia, food production, green economy and fuel poverty, and on related matters such as the importance of the EU, the Green New Deal, youth participation in politics, being a young politician, working with social media, winning debates and campaigning speak. These talks and workshops were given by many passionate and prominent figures in UK green politics such as Natalie Bennett, MEPs Keith Taylor and Jean Lambert, former London Mayoral candidate Sian Berry and other inspiring speakers.
We considered which effects of austerity are going to affect young people across Europe, and
we all recognised
that the ones that will affect them most
are primarily less affordable access to education (due to rising tuition fees, living costs, etc.) and high unemployment.
Though these two basic needs for young people (
education and employment
) are where we are going to be hit hardest, many other factors associated with these, such as unaffordable housing and rising food costs, are going to harm us no less.
We all acknowledged and agreed that the austerity policies that are being imposed upon us are far from being the necessity and only option that they are often portrayed as. We discussed how it was not a lack of resources that led to the cuts we are facing, but the way the abundant resources are managed and distributed.
When we started
to discuss
more formally the solutions we would propose (though we had been discussing these throughout the seminar), most of us found it almost amusing how simple the possible solutions were, and how clear it was that the cuts we are all facing across Europe are in most cases ideological and far from necessary. We spoke of how simple taxes paid in proportion to each person's wealth or land, and more effective implementation of the laws already in place for regulating large businesses, could quickly clear the deficit and solve other issues at the same time.
When we discussed how the key to solve both the problems that have caused austerity and the problems that austerity is causing is to divest from unethical industries and bu
sinesses and reinvest in ethical and sustainable ventures that will benefit the majority rather than just a minority, we started to realise how despite initially speaking about austerity, the solutions we were discussing were equally relevant to a range of ultimately interconnected issues that are being faced by us all.
Though our solutions were far from original and were sometimes even highly specific, such as supporting a citizen's income, we agreed that despite our solutions being so obvious and so easy to implement, we are living in a society and economic system that is
far from
applying them.
All the seminar participants also joined the Student Loan Sell Off protest outside the Department for Business, Innovation and Skills.
As I am sure most of you know, some student loans are currently being sold off to private

debt collector

companies, meaning that not only will students be unable to know to whom their debts will be owed in future, but also that in a completely arbitrary manner the interest and payback requirements for each student are going to differ drastically. This will not only affect students starting their course after the law is passed, but any former student with a loan currently outstanding. This is of course of great relevance to all present and many past students, but also to young people g

enerally, since many of them will become the students of tomorrow and be the ones suffering from this.
I greatly enjoyed speaking to YGs from across Europe and hearing of both the similar and the different challenges we face, and felt I learned so much from this. I had the most incredible time at this brilliant event and would like to thank FYEG and the fantastic prep team – Benali Hamdache, Riocárd ÓhOddail, Fiona Costello, Paul Cohen and Darcy Lonegran."
Notes:
The Federation of Young European Greens (FYEG) serves as a key link between the many Young Green wings of the Party from across the EU, and also between them and Green representatives in the European Parliament. It enables Greens under 30 to share their local concerns with those of their counterparts in other countries, while also providing them with opportunities to contribute towards bringing about the changes they wish to see and to broaden their understanding of the diverse challenges that are faced by young Greens in modern Europe. One of the objectives of these seminars, which take place across Europe, is to find the key concerns of young Greens. This is done by getting participants to prioritise the changes or polices they would like Green MEPs to push forward or issues they would like them to address, and at each seminar we must decide a final top three of these. At the end of the current round of seminars, which is likely to be one in Brussels, all the prioritised responses (top three changes or polices) will be collated into the Youth Manifesto, which is to be used by Green MEPs when representing youth opinions at an EU level.
Last Updated ( Wednesday, 26 February 2014 18:41 )
What is care.data?
An introduction to Care.data by Stroud Against the Cuts member Hannah Basson:
Over recent months there has been much media attention regarding a new way of collecting patient data. 'Care.data' is an initiative to draw together all the health details of everyone in England in to one place. This system is not the same as the local systems that your GP and other health providers use. If your GP, physiotherapist, consultant etc (care team) ask if you are okay with your data being shared with other health professionals, they are referring to systems which merely allow one health professional to share your treatments with another, eg that your GP can see easily you had some treatment from someone in your local hospital so this can have some relevance for the treatment your GP provides – this enables joined-up care and is used simply for you and in your presence. This data cannot go beyond the care team.
But this is not 'Care.data'. 'Care.data', they say, is designed to allow the NHS to examine nationwide statistics so they can work out what is working well and make changes to those treatments that are not so good. However, we must remember that now there are private companies working under the NHS banner which are very secretive and they are likely to be more interested in your information to increase their profits.

News February 2014

Care.Data
put on hold
There have been several 'listening pauses' regarding new government policies – these have, on the whole, resulted in no real change to address the concerns which have triggered these pauses. This pause is not to change how data is harvested or how it is used, it is simply to give more time for the public to understand what is being proposed.
Care.data
By now, nearly all households should have received
a leaflet
(link to pdf version) from the Health and Social Care Information Centre (HSCIC)
The leaflet tells you of the benefits of sharing your information, it lists the benefits for the planning and implementing of health services in England. It informs us that our data will not identify us in person. For an article which is in favour of the new care.data programme, you might go to
The Nuffield Trust site
.
Under the 2012 Heatlh and Social Care act, surgeries must comply with requests for their data to be uploaded to the central database for all patients on their books unless the person has opted out.
Why Opt Out?
The GP's own news site Pulse, highlights a number of issues with this data extraction, in an article revealing that patient-identifiable data have already been approved on request to several sources, 12 of which are bodies outside of the NHS.
http://www.pulsetoday.co.uk/your-practice/practice-topics/it/revealed-independent-experts-overseeing-caredata-have-approved-31-releases-of-identifiable-patient-data-since-april/20005572.article#.Uv991rDivcu
As revealed through a question to the Health Minister, Dan Poulter, by Conservative MP David Davis, the police can still request patient-identifiable data even if you have opted out.
http://www.theyworkforyou.com/wrans/?id=2014-02-04a.185516.h&s=David+Davis#g185516.q0
Both the Telegraph and the Guardian have been full of articles expounding on the details of how our data may or may not be used – and mostly, by a huge majority, how our identifiable data will get in to the hands of those who may not have our health at the heart of their organisations.
An insightful article by Shibley Rahman can be read here
http://legal-aware.org/2013/01/cui-bono-again-who-exactly-stands-to-gain-from-the-nhs-it-initiative/
raising many concerns about who might gain from our data.
And if you still are not cynical enough, the mere knowledge that ATOS helped develop the extraction tool for pulling our data should raise an eyebrow!

How can I opt out? Most surgery websites have forms for you to fill in to opt out of your data being passed on in an identifiable form (although any reasonable person might assume that 'opting out' would prevent any data leaving your GP's surgery at all). You can also find forms online here at MedConfidential.
GPs opting out
GPs must upload your data but, if you 'opt out', they then put a code against your name to say that you have not agreed for your information to be passed on to anyone.
An article in the Telegraph on 10th February stated that "Family doctors who refuse to hand over patient information for a controversial NHS database will not be told what their punishment will be until it is too late to change their minds" and "doctors who intend to rebel against the database have been issued with warning letters which state that failure to hand patient records to the national data-sharing scheme puts them in "breach of contract" with the health service".
How about GPs as patients? A snapshot survey of about 400 GPs revealed that over 40% plan to opt out of care.data.
So how confident are you in this new system of data harvesting and selling? I could direct you to a hundred articles that all say the same thing – our personal data is for sale and no one knows to whom or in what form – with varying degrees of identification at each level – each article with a less-than-convincing rebuttal from a relevant authority.
However, to be fair, it's not only government bodies and those in private health and with vested interests that are saying all will be fine, those better known for their campaigning for a publicly-owned, fairer NHS and for fighting the 2012 Health and Social Care Act also have something to say in favour of care.data. Pollock and Macfarlane believe that opting out means data will be inadequate to assess the impact of government policies to privatise the NHS. They believe that opting out plays in to the hands of the private sector.
Their article is very fair and looks at the debate from all angles. They say "Patients and the public need to make it clear to NHS England that their consent for medical records to be uploaded to care.data is conditional on it not being used for commercial purposes or handed over to third parties such as drug companies and health insurance and health care corporations."
Of course, it may be that the whole project is a waste of £50million
"Board papers drawn up by Department of Health (DoH) officials warn that proposed EU regulations to harmonise rules on data protection would not allow such a system - because they state that individuals must give explicit consent, knowing the specific purpose for which data is being used." (quote from Telegraph article)

In case you were wondering if I was opting out, I'm with Dr Hadrian Moss who says
"Now I'm not being silly and opting out completely. I'm quite happy for my data to be shared within the NHS but no way am I letting it go to third parties, even if it's anonymised. If high level government officers can leave laptops and USB sticks full of confidential data lying around then how likely is it my data will filter out at some point?* Not that I have anything to hide, but it's the principle that's important, especially when this information could be combined with my shopping habits and sold on to interested parties."
*Professor Sir Brian Jarman, health data expert, warned that firms could identify patients within a few hours. Although the information is meant to be pseudonymised (a form of anonymity), Sir Brian said it would be easy to find patients from those details.

Last Updated ( Saturday, 22 February 2014 18:40 )