Help for people hit by the bedroom tax
Are you a council or Housing Association tenant? Has your Housing Benefit been reduced because of the bedroom tax (under-occupancy charge)?
About 400 people in Stroud have been affected since April last year, losing up to a quarter of HB.
There's a chance that you may be able to get your bedroom tax rent arrears wiped, reduced and/or capped, but to have the best chance, you need to act now (before mid October).
Act now - you've nothing to lose
Submit an official appeal on the 2-page form 'GL24' NOW (http://bit.ly/1wh6SrG) and give it to the council.
Need help?
We can help you get hold of the forms and fill them in. We will be arranging drop-in sessions at The Exchange, Brick Row, Stroud GL5 (dates & times to be confirmed). Or email This e-mail address is being protected from spambots. You need JavaScript enabled to view it or This e-mail address is being protected from spambots. You need JavaScript enabled to view it , or call Cllr Caroline Molloy on 07931 302507.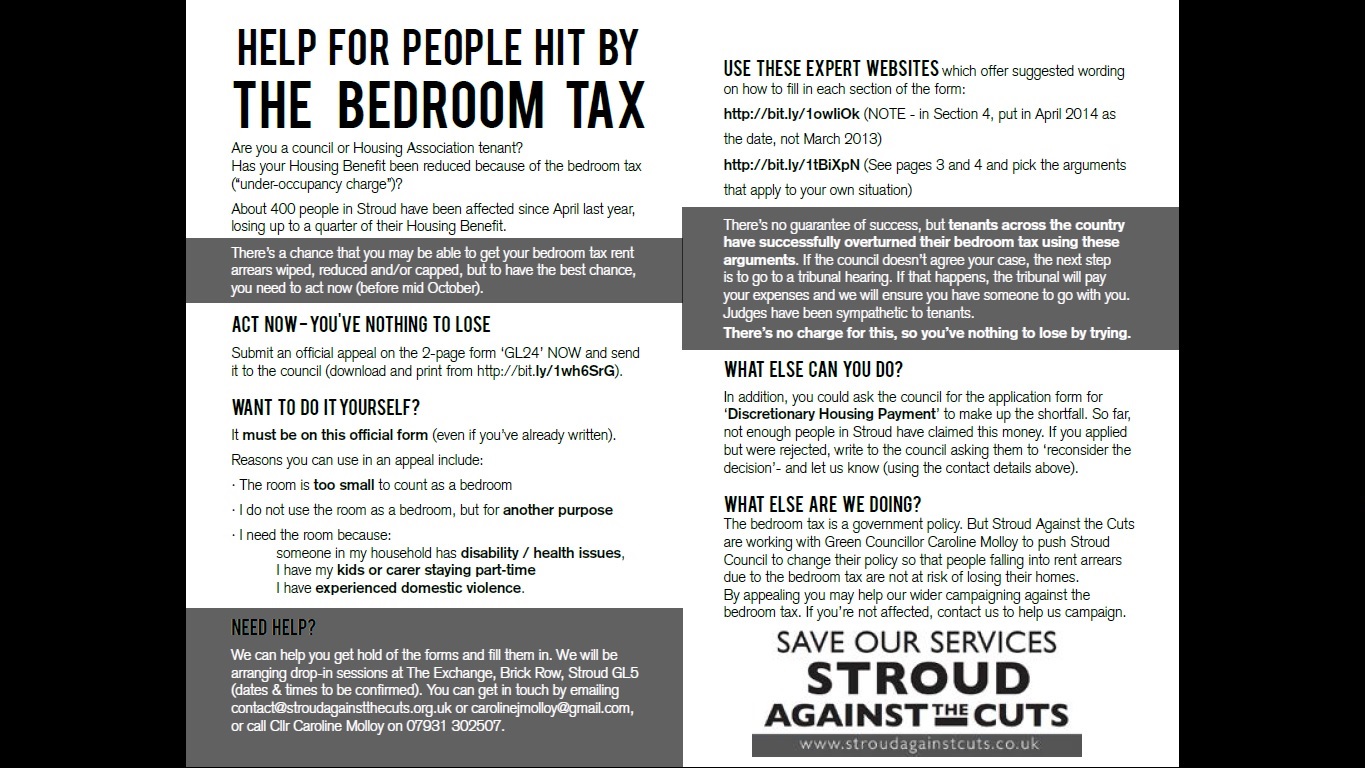 Want to do it yourself?
It must be on this official form (even if you've already written). Reasons you can use in an appeal include:
· The room is too small to count as a bedroom
· I do not use the room as a bedroom, but for another purpose
· I need the room because someone in my household has disability / health issues, because I have my kids or carer staying part-time, because I have experienced domestic violence.
Use these expert websites suggested wording on how to fill in each section of the form:
http://bit.ly/1owIiOk (NOTE - in Section 4, put in April 2014 as the date, not March 2013)
http://bit.ly/1tBiXpN (See p3 and 4 and pick the arguments that apply to your own situation)
There's no guarantee of success, but tenants across the country have successfully overturned their bedroom tax using these arguments. If the council doesn't agree your case, the next step is to go to a tribunal hearing. If that happens, the tribunal will pay your expenses and we will ensure you have someone to go with you. Judges have been sympathetic to tenants. There's no charge for this, so you've nothing to lose by trying.
What else can you do?
In addition, you could ask the council for the application form for 'Discretionary Housing Payment' to make up the shortfall. So far, not enough people in Stroud have claimed this money. If you applied but were rejected, write to the council asking them to 'reconsider the decision'- and let us know (using the contact details above).
What else are we doing?
The bedroom tax is a government policy. But Stroud Against the Cuts are working with Green Councillor Caroline Molloy to push Stroud Council to change their policy so that people falling into rent arrears due to the bedroom tax are not at risk of losing their homes. If you appeal it may help our wider campaigning against the bedroom tax.