On Friday 10th January Michael Gove visited Gloucestershire for the second time in recent months. Stroud Against the Cuts received a tip-off he was due to visit Marling School in the afternoon, and arranged to meet at 3.15, half an hour before Gove was due to arrive.
We hope to provide a full report soon, in the meantime here are some photos and links to mainstream media coverage of the protests, which were joined by around 200 people in all, and saw dozens of students chanting "Gove Out!" outside the classroom Mr Gove and local MP Neil Carmichael held a small press conference (which had been intended to be secret)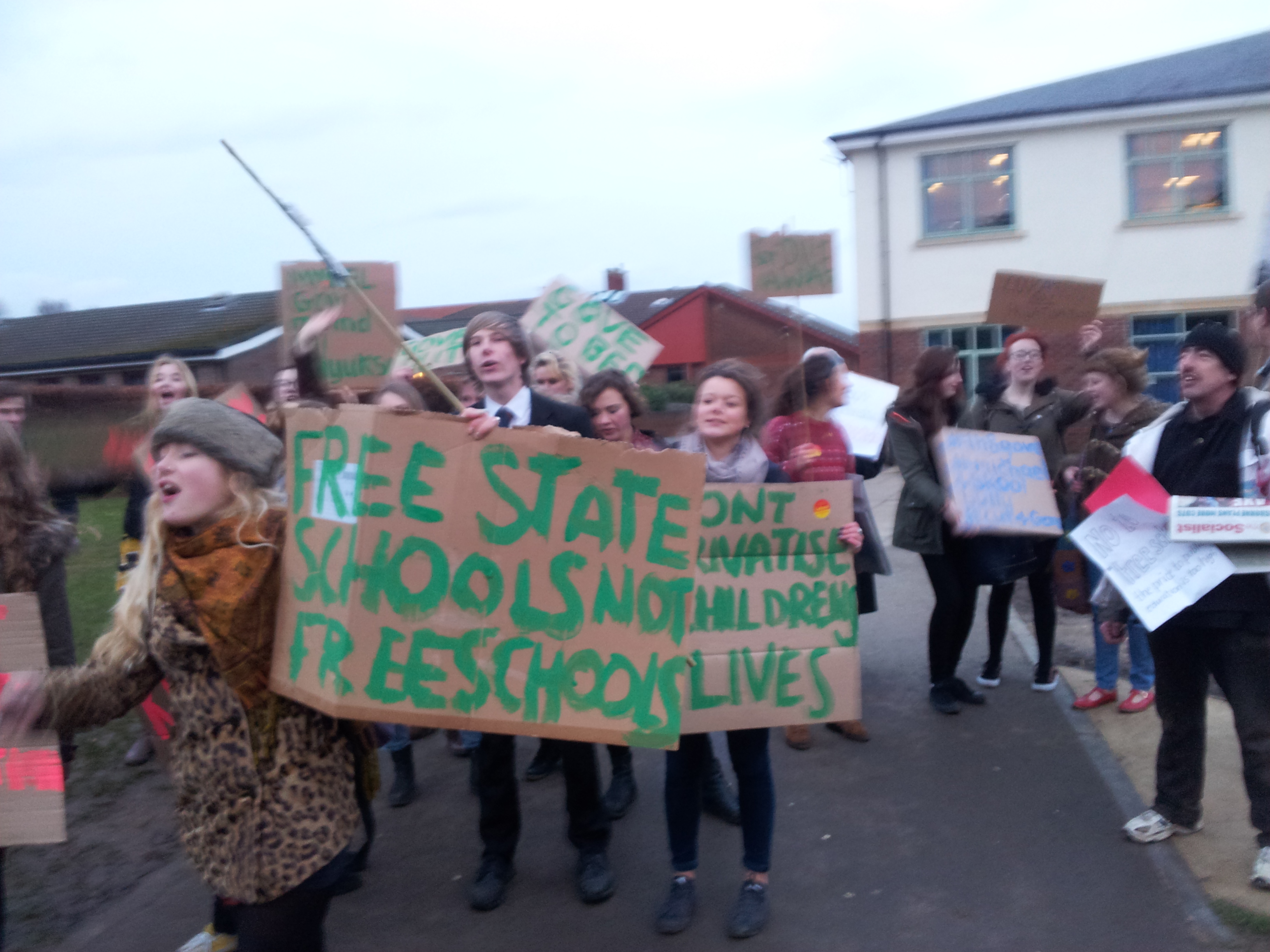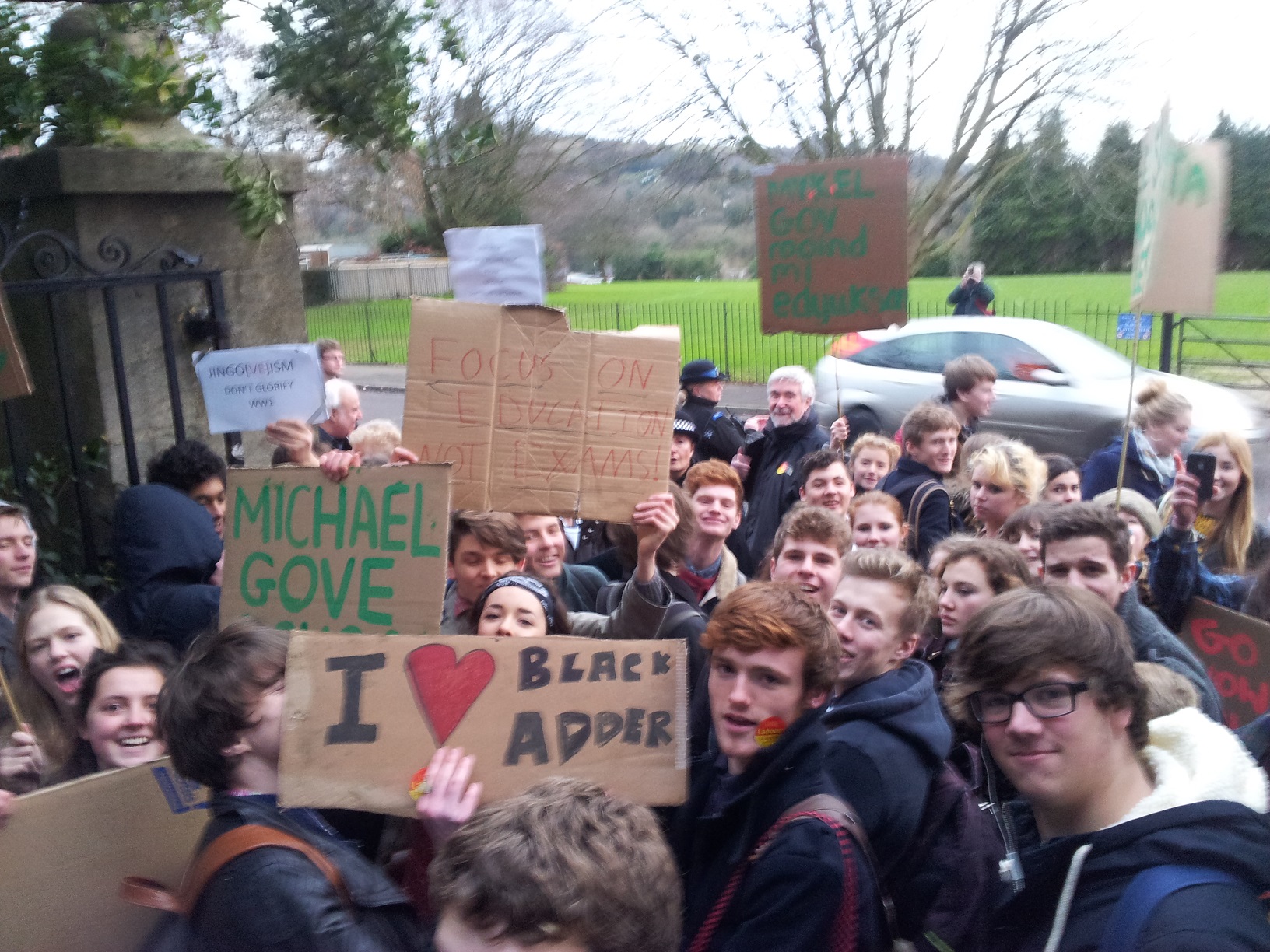 Stroud Life article (with photos and video; this video in particular gives an indication of the scale of the protests, though covering only the presence at one on several entrances to the school)
Stroud News and Journal article (with more photos)
Stroud Against the Cuts' twitter account has more: https://twitter.com/StroudAntiCuts.
If you are a student of member of staff and would like to send photos, video, or a statement about why you joined the protests, please email: This e-mail address is being protected from spambots. You need JavaScript enabled to view it
Below is the original SATC call for a protest:
Dear Stroud Against the Cuts supporters,
Tomorrow, Friday 10th January, Michael Gove, Secretary of State for Education, is visiting Gloucestershire.
He will be attending Marling school in the afternoon, and we are organising an impromptu protest meeting
outside the former Downfield Hotel (now Five Valleys Vetinary Service), next to Downfield Rd.
Please join us if you are able - with placards etc.
Why protest Michael Gove's visit?
As has been happening in our health services, education is being increasingly privatised and marketised, removing local democratic control through the promotion of Academies and 'Free Schools'. (locally, Governors, Staff and parents at King's Stanley Primary school are campaigning again the school becoming an academy, see: http://www.savekingsstanley.co.uk/index.html)
A recent survey showed:
79% of teachers feel that the Government's impact on the education system over the last three-and-a-half-years has been negative.

82% of teachers and 87% of school leaders do not believe the Coalition Government's academies and free schools programme is taking education in the right direction.

Morale in the teaching profession continues to fall and three quarters (74%) of teachers say their morale has declined since the last General Election.

63% of teachers say that more than a fifth of their workload does not directly benefit children's learning.
52% of teachers are less likely to stay in the profession as a result of changes to teachers' pay and pensions, and 57% are less likely to stay as a result of changes to teachers' conditions.

70% of head teachers do not feel trusted by the Government to get on with the job.

69% of teachers and 85% of head teachers feel they cannot work until 68.

The vast majority of teachers (91%) do not believe publicly funded schools should be run for profit, and 93% of teachers believe academies and free schools should employ teachers with Qualified Teacher Status. (see: http://www.teachers.org.uk/campaigns/protect-teachers)
A leaflet from the National Union of Teachers is attached.
In October last year, Teachers took strike against against attacks not only on our education system but their terms, conditions and pensions, see information here: http://stroudagainstcuts.co.uk/fightback/educationcuts/37-education/150-teachers-strike.html. Why has SATC been supporting this strike action?
"Teachers' pensions are not "gold-plated", they are fair and affordable. £46billion more has been paid in than has ever been paid out!

· If private sector pensions aren't as good then they need to be made better – please don't pit private against public

· Teachers have had a significant pay cut in real terms over the past few years – will be 15% by April 2014

· Teachers are being asked to pay more, work longer and get less for their pension – we need you to report this

· Teachers cannot physically work until 68

· Working conditions for teachers have deteriorated under this government

· The working conditions of teachers are the learning conditions of children

· The new pay structure being introduced by Michael Gove pits teachers against each other. This is not the way teachers want to work

· Striking is a last resort. We don't want children to miss a day of school or to inconvenience parents, but we are fighting for a better education system and Michael Gove has refused to negotiate leaving us no other choice" (http://teacherroar.weebly.com/)
Apologies for the short notice,
James Beecher
for SATC