Updates for supporters of Stroud Against the Cuts - 2015
2015 updates before March:
15th February update
In this update:
1. Details of our public meeting on the NHS, Monday 23rd February 7.30pm at The Old Town Hall
2. New NHS book and updates from Keep Our NHS Public
3. Sisters Uncut against cuts to domestic violence support services sees women shut down Oxford St
4. Boycott Workfare Day of Action in solidarity with unemployed activist arrest for representing a jobseeker
5. Disabled People Against Cuts day of action
6. ...and finally!
---
1. Is the NHS sustainable? Is PFI bankrupting the NHS? What's wrong with privatisation? What demands should we make? How can we rebuild the NHS?
Find out the answers to these questions and more at a Public Meeting, Monday 23rd February, The Old Town Hall, Stroud, 7.30-9.30pm (doors 7pm). We will meet in Kings St outside the entrance to Merrywalks to hand out flyers on Saturday 21st at 10.30am. Please print a poster for your local noticeboard (email This e-mail address is being protected from spambots. You need JavaScript enabled to view it for a copy), or share the link on our website with more information.
FOUR CO-ORDINATORS OF THE CAMPAIGN THAT STOPPED LOCAL COMMUNITY HEALTH SERVICES BEING PRIVATISED SPEAK:
Hannah Basson - an NHS health worker and Equalities Officer for the Gloucester
Health branch of Unite the Union (personal capacity).
Cllr Caroline Molloy - Editor of the OurNHS website, freelance writer, and
Green district councillor for Stroud Central.
Chris Moore - led the local anti-poll-tax non-payment campaign in the 1990s,
Trade Unionists and Socialists against Cuts (TUSC) candidate.
James Beecher - Chair of Stroud Against the Cuts, Economist.
Our NHS is under sustained attack
Earlier this year our local A&E department declared a 'major incident'. Local non-emergency ambulance services have been handed to a private company. Health and social care services have seen their budgets cut, while the government's 2012 Health & Social Care Act was just the latest way to introduce privatisation. Morale in the NHS is at a low ebb and workers deserve better.
...but we can resist - and win!
In 2011 and 2012, a determined Gloucestershire-wide campaign led by Stroud Against the Cuts successfully used legal action, petitions and protests to force local NHS bosses to halt the transfer of local community hospitals and 3000 health workers out of the NHS.
The meeting will involve short speeches by the four campaigners mentioned above, followed by plenty of time for Q&A and discussion of the demands we should be making of politicians and the actions we can take.
---
2. New NHS book and updates from Keep Our NHS Public
The latest collection of stories about the NHS via Keep Our NHS Public and SATC member Hannah Basson is attached. You can read emails discussing these and other stories by people interested in campaigning on the NHS locally over the internet via
a yahoo group
- access an excellent source of documents and news items.
KONP also pass on information about a new book:
NHS FOR SALE -
Myths, Lies and Deception by Jacky Davis, John Lister and David Wrigley
.




Owen Jones

describes it at 'the most important recent book about the future of the NHS. It examines the havoc created by Andrew Lansley's costly and damaging "reforms" and George Osborne's spending cuts. It's a must read.' KONP say "This book sets out what needs to be done to protect the NHS against corporate greed, and enable future governments to meet the challenge of delivering high quality and affordable health care for all."
3. Sisters Uncut against cuts to domestic violence support services sees women shut down Oxford St
Yesterday, Saturday 14th February, women-only direct action group Sisters Uncut "stopped traffic on Oxford St... resisting cuts to domestic violence services". Earlier the group laid flowers at Picadilly for women who died from domestic violence. There are some
great photos on the group's twitter account
(you do not need to use twitter to view them). The protest was partly about the cuts and changes that have been made to the legal aid system. Emma Scott, director of
Rights of Women
, describes Laspo as a "fundamental attack on the rule of law". "There are women who tell us that without [access to] legal aid they are staying in abusive relationships. It is not over-dramatic to say that women will die," she says.
Read the full article from which that quote was taken in The Guardian
.
"Demands:
No more cuts to domestic violence services
Restore funding that has been cut
Secure funding for specialist domestic violence services; this should be ring-fenced* at a national level.
Local Authorities to fully meet the demands of their communities, recognising that different women have different needs.
Guaranteed access to legal aid for women experiencing domestic violence.
Provide access to safe and secure social housing for women who otherwise cannot afford to flee.
Panic rooms should not be classified as a spare room under the Bedroom Tax.
Safety should not be subject to immigration status; extend access to safe housing to women with no recourse to public funds."
4. Boycott Workfare Day of Action at Jobcentres Nationwide - 25th February 2015
Scottish Unemployed Workers Network activist Tony Cox was arrested on 29th January after Arbroath Jobcentre management called police to stop him representing a vulnerable jobseeker. Boycott Workfare are urging supporters to join a Day of Action on 25th February at Jobcentres round Britain to show your solidarity. Is anyone able to attend an event in Stroud on Wednesday? Please get in touch if so and we will arrange a time.
Boycott Workfare have circulated the following message from Edinburgh Coalition Against Poverty:
"We must fight back against this clear attempt to intimidate claimants and deny us the right to be accompanied and represented... As we face unprecedented sanctions and benefits cuts, it's more important than ever that we support each other and stand up to the DWP bullies. The Scottish Unemployed Workers Network, Dundee Against Welfare Sanctions and other groups have established a strong presence at the Jobcentres in Dundee and in nearby towns and cities like Arbroath, Perth and Blairgowrie, supporting claimants in opposing sanctions and harassment.

On 29 January Tony was accompanying a vulnerable woman claimant, who suffers from severe dyslexia and literacy problems. The claimant, D, had been signed up to the Universal Job Match (UJM), the computerised job search system, and was being forced to complete five job searches per day, the pressure of which had led to her having several panic attacks. Tony proposed that D's UJM account be closed, and that her number of job searches be significantly reduced. The adviser refused to consider this, and so Tony and D met with the Jobcentre manager.
The manager likewise refused to even look at the issue, falsely claiming that all jobseekers had to be registered with UJM. She even suggested to D that she should arrange another meeting without Tony or any other witness or rep present. Despite the pressure D was being put under by the manager, she replied that she would not attend another meeting without Tony. At this point the manager demanded that Tony leave the building or the police would be called. Tony refused to leave, but the meeting ended when it was agreed that a further meeting be arranged to discuss the issue further. Tony was arrested after he left the Jobcentre.
The right of claimants to be accompanied to interviews, and for the accompanier to have the right to speak, has been established by groups like Edinburgh Coalition Against Poverty, who have forced the DWP locally and Britain-wide to apologise for calling the police on ECAP reps, and to affirmclaimants' right to representation. The DWP clearly state "Claimants accessing Department for Work and Pensions (DWP) benefits and services can have someone to accompany them to act on their behalf..."
The attack on benefits and claimants is part of the austerity assault on the entire working class. We call on all unemployed and claimants groups, anti cuts and anti austerity groups, human rights groups, workplace activists, and all working class people, waged and unwaged, to show solidarity with Tony and the right of the unemployed and all claimants to organise collectively to fight back.
Visit your local Jobcentre on 25th February with banners and placards and distribute leaflets to claimants on Tony's case and the right to be accompanied to all benefits interviews.
Call out by Edinburgh Coalition Against Poverty - This e-mail address is being protected from spambots. You need JavaScript enabled to view it
Supported by Scottish Unemployed Workers Network
Dundee Against Welfare Sanctions
Boycott Workfare
Please add the support of your group/organisation: email This e-mail address is being protected from spambots. You need JavaScript enabled to view it & This e-mail address is being protected from spambots. You need JavaScript enabled to view it "
---
5. Disabled People Against Cuts have a day of action following week on Monday 2 March.
Disabled People Against Cuts say "the Day of Action is aimed at the objective of ending the Work Capability Assessments and destroying the credibility of Maximus which should be relatively easy to do given their appalling track record". Maximus is the company set to replace ATOS, to whom the Work Capability Assessments (WCA) have previously been outsourced.
Actions are planned or in planning for
Aberdeen, Balham, Bournemouth, Bradford, Brighton, Cardiff, Croydon, Dundee, Ealing, Edinburgh, Glasgow, Inverness, Ipswich, Leeds, Leicester, Lincoln, Manchester, Norwich, Plymouth, Reading, Sheffield
,
Sunderland, Toronto, Truro, Wrexham
and
Maximus HQ in central London.
---
6. ...and finally!
After a week in which the skullduggery of the financial sector and the tax avoiding habits of political donors have once again been in the spotlight...
"Everyone has threatened to sue former Conservative Party treasurer Lord Fink after he claimed yesterday that everyone avoids tax.
In a statement, a spokesperson for everyone and everybody strongly denied the accusations and said that if the Conservative Party donor does not withdraw the accusations and issue an immediate apology, then legal action against him will be considered."
from Thomas Pride's blog.
James Beecher
for Stroud Against the Cuts
Read previous updates by clicking "Read More" below:
Last Updated ( Thursday, 25 June 2015 10:26 )
Read more...
Protest against Michael Gove 10/01/2014
On Friday 10th January Michael Gove visited Gloucestershire for the second time in recent months. Stroud Against the Cuts received a tip-off he was due to visit Marling School in the afternoon, and arranged to meet at 3.15, half an hour before Gove was due to arrive.
We hope to provide a full report soon, in the meantime here are some photos and links to mainstream media coverage of the protests, which were joined by around 200 people in all, and saw dozens of students chanting "Gove Out!" outside the classroom Mr Gove and local MP Neil Carmichael held a small press conference (which had been intended to be secret)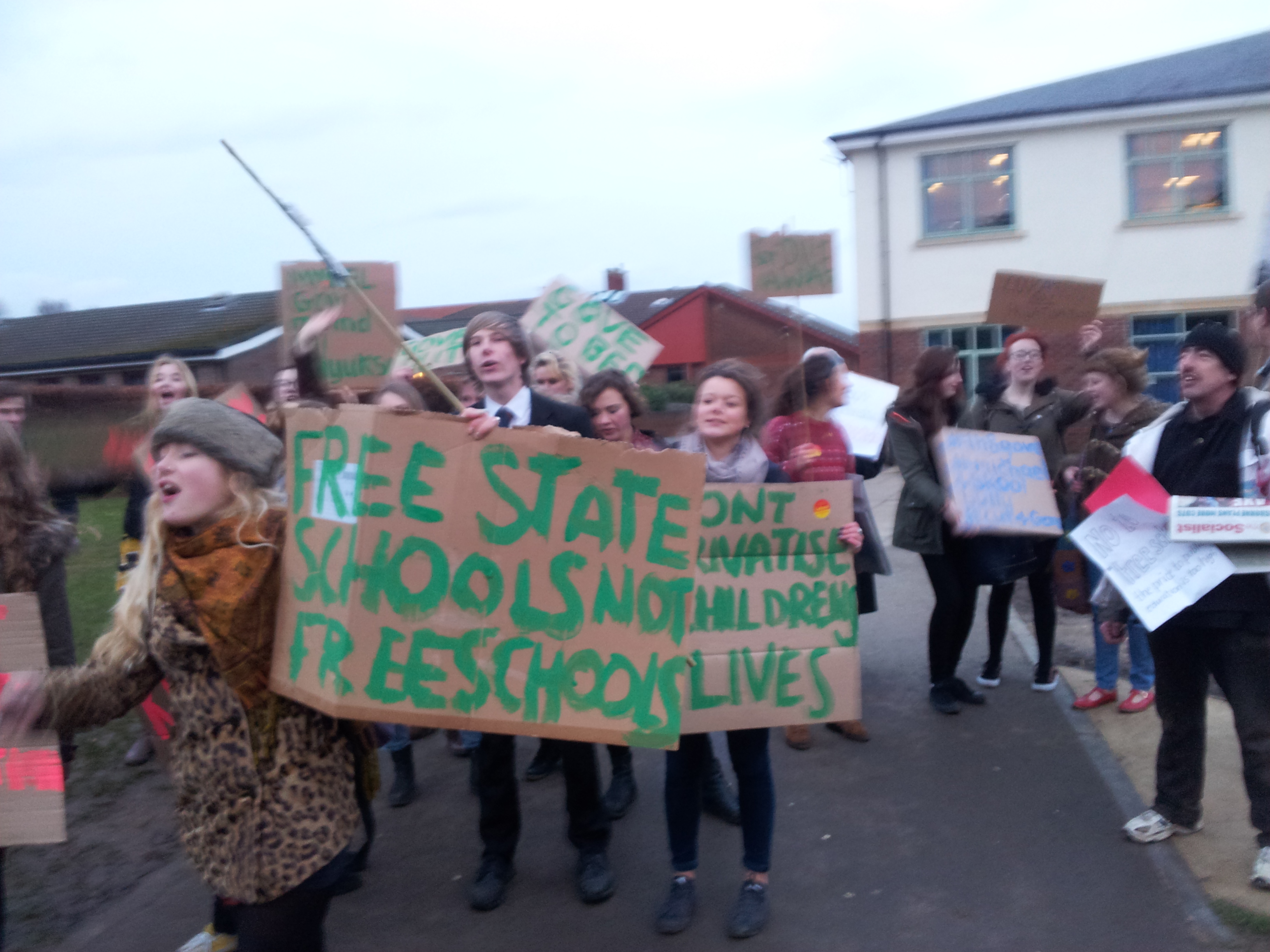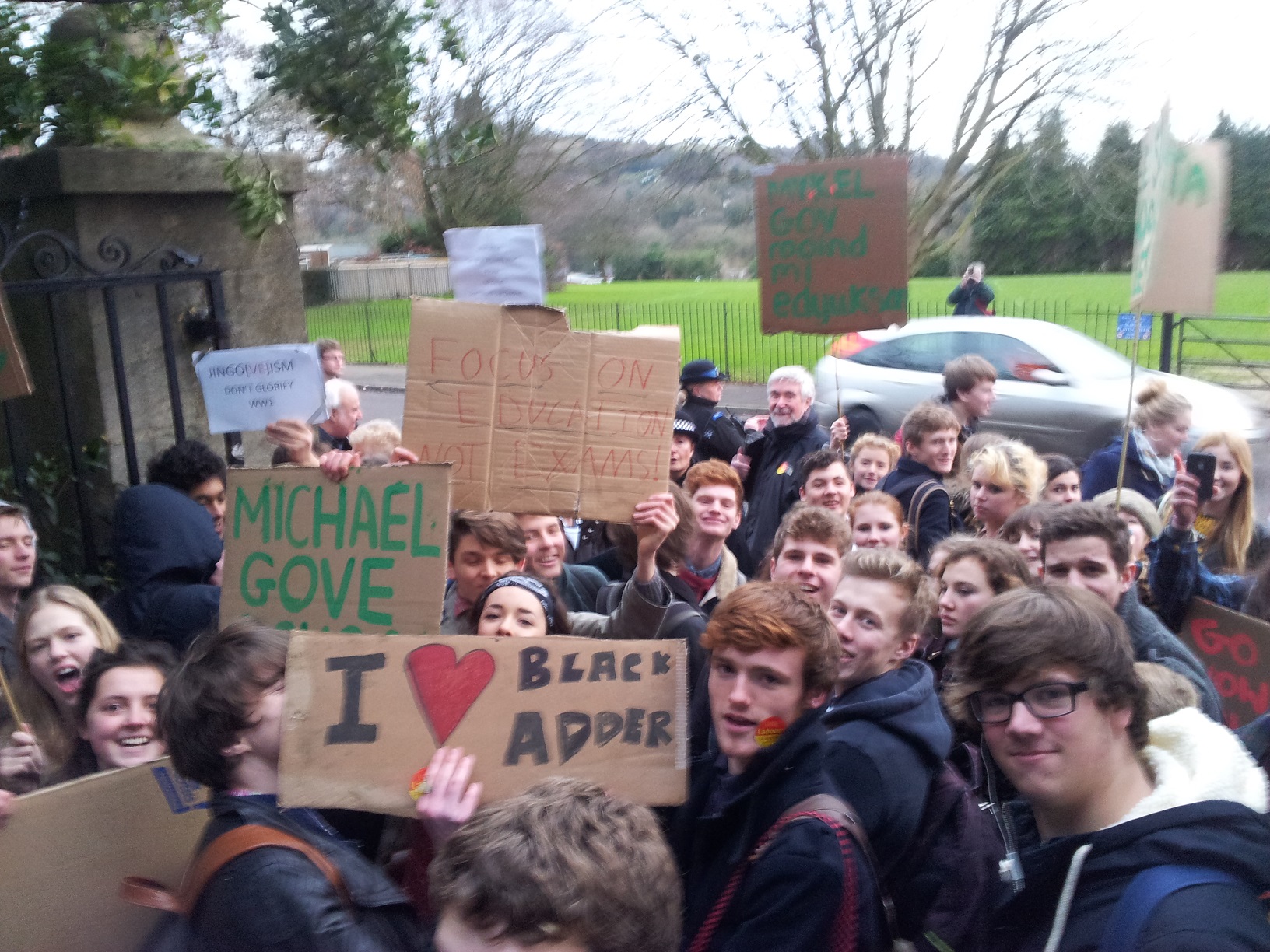 Stroud Life article (with photos and video; this video in particular gives an indication of the scale of the protests, though covering only the presence at one on several entrances to the school)
Stroud News and Journal article (with more photos)
Stroud Against the Cuts' twitter account has more: https://twitter.com/StroudAntiCuts.
If you are a student of member of staff and would like to send photos, video, or a statement about why you joined the protests, please email: This e-mail address is being protected from spambots. You need JavaScript enabled to view it
Below is the original SATC call for a protest:
Dear Stroud Against the Cuts supporters,
Tomorrow, Friday 10th January, Michael Gove, Secretary of State for Education, is visiting Gloucestershire.
He will be attending Marling school in the afternoon, and we are organising an impromptu protest meeting
outside the former Downfield Hotel (now Five Valleys Vetinary Service), next to Downfield Rd.
Please join us if you are able - with placards etc.
Why protest Michael Gove's visit?
As has been happening in our health services, education is being increasingly privatised and marketised, removing local democratic control through the promotion of Academies and 'Free Schools'. (locally, Governors, Staff and parents at King's Stanley Primary school are campaigning again the school becoming an academy, see: http://www.savekingsstanley.co.uk/index.html)
A recent survey showed:
79% of teachers feel that the Government's impact on the education system over the last three-and-a-half-years has been negative.

82% of teachers and 87% of school leaders do not believe the Coalition Government's academies and free schools programme is taking education in the right direction.

Morale in the teaching profession continues to fall and three quarters (74%) of teachers say their morale has declined since the last General Election.

63% of teachers say that more than a fifth of their workload does not directly benefit children's learning.
52% of teachers are less likely to stay in the profession as a result of changes to teachers' pay and pensions, and 57% are less likely to stay as a result of changes to teachers' conditions.

70% of head teachers do not feel trusted by the Government to get on with the job.

69% of teachers and 85% of head teachers feel they cannot work until 68.

The vast majority of teachers (91%) do not believe publicly funded schools should be run for profit, and 93% of teachers believe academies and free schools should employ teachers with Qualified Teacher Status. (see: http://www.teachers.org.uk/campaigns/protect-teachers)
A leaflet from the National Union of Teachers is attached.
In October last year, Teachers took strike against against attacks not only on our education system but their terms, conditions and pensions, see information here: http://stroudagainstcuts.co.uk/fightback/educationcuts/37-education/150-teachers-strike.html. Why has SATC been supporting this strike action?
"Teachers' pensions are not "gold-plated", they are fair and affordable. £46billion more has been paid in than has ever been paid out!

· If private sector pensions aren't as good then they need to be made better – please don't pit private against public

· Teachers have had a significant pay cut in real terms over the past few years – will be 15% by April 2014

· Teachers are being asked to pay more, work longer and get less for their pension – we need you to report this

· Teachers cannot physically work until 68

· Working conditions for teachers have deteriorated under this government

· The working conditions of teachers are the learning conditions of children

· The new pay structure being introduced by Michael Gove pits teachers against each other. This is not the way teachers want to work

· Striking is a last resort. We don't want children to miss a day of school or to inconvenience parents, but we are fighting for a better education system and Michael Gove has refused to negotiate leaving us no other choice" (http://teacherroar.weebly.com/)
Apologies for the short notice,
James Beecher
for SATC
Last Updated ( Saturday, 11 January 2014 16:34 )
Great Result for SATC
On Monday 15th October, over 20 members and supporters of Stroud Against the Cuts went to Sanger House in Brockworth to hear the result of the board of NHS Gloucestershire's final vote on the consultation process. The vote was unanimous in favour of establishing a new, standalone NHS Trust in the county - what SATC have been campaigning for all along!
This is a victory for anti-cuts and anti-privatisation campaigners across the county, and thanks are due to everyone who helped the campaign in any way, including signing petitions, marching, donating money, writing letters and completing consultation forms.
The campaign has taken almost 2 years now so a celebration is planned, before continuing to campaign against creeping privatisation across the NHS and destruction of staff pay and conditions. Stroud Against the Cuts will also be spreading the word about our achievement to inspire and motivate other campaigners to Keep the NHS Public across the UK. Please help to do this. For the full press release about the victory, see below.
Last Updated ( Wednesday, 17 October 2012 10:21 )